Winter individual indoor golf league
Join now!
Places are limited
General information
The indoor winter golf league is a great way to play regularly and improve your golf. It also gives you the flexibility to play when you want and even play early games when you plan on some busier weeks or away. The indoor golf center Le Golf Club offers you state-of-the-art golf simulators that offer precision and realism.
Flexibility to play at your convenience from Sunday evening to Thursday at the Vaudreuil or Montreal location. You can also play your games in advance.
1st drink is free during games played on Sunday evening.
14 games / 14 weeks / 14 different routes.
January 9th to April 13th.
$ 1,000 in prizes.
Regulars: $ 375 / season
Members: $ 25 / season
League settings
Mulligan = not allowed
Pin position = Medium
Auto Caddie = Off
Wind = 0
Gimme = 5 feet
Terrain Penality = Enabled
Elevation = 1000′
Weekly scores have to be received by Thursday 11pm.
Horaire
| | |
| --- | --- |
| Date | Course |
| 10-janv | Tribute at Otsego, MI |
| 17-janv | Asiana CC, Corée |
| 24-janv | PGA National, FL  |
| 31-janv | Superstition Mountain, AZ |
| 07-févr | Valderrama, Espagne  |
| 14-févr | Le Grand George, Afrique du Sud |
| 21-févr | Entrada, UT  |
| 28-févr | Harbour Town, SC  |
| 07-mars | Houston G.C. |
| 14-mars | Cabo del Sol, Mexique |
| 21-mars | Grand National, AL |
| 28-mars | Judge at Capitol Hill AL |
| 04-avr | Latrobe, PA |
| 11-avr | Kapalua Bay, HI |
* Ladies are teeing off the yellows on all courses.
Results
Weekly Best Net Scores
Each week, the winner of the best net score wins a $25 Le Golf Club gift card.  If 2 players finish first, a draw will determine the winner of the gift card.
This week's winners are :
Classe A : Scott Howald
Classe B : Patrick Wilken
Classe C : Jean-Sebastien Fauteux
Weekly Handicap Revision
Handicaps are revised weekly.  Next week handicap is calculated on your best 7 scores of the last 12 games played.
Points
Points are earned by your weekly ranking.  This week, each position value 20 points.
Additional Gift Card Draw
This week we had 3 additional Le Golf Club gift cards.  They were randomly drawn.  1 per class.  Here are the winners :
Classe A : Martin Legault
Classe B : Courcey Bishop
Classe C : Wayne Harding
Final Results
Congrats to the winners of the league!
1st position : Twosomes at golf Atlantide
2nd position : Twosome at golf de l'Ile de Montréal
Class A :
1e place : Scott Howald
2e place : Eric Soucy
Class B :
1e place : Patrick Wilken
2e place : Paul Gaudreau
Class C :
1e place : Joel Langlois
2e place : Marco Zerdin
Contact the Montreal location to get your prize.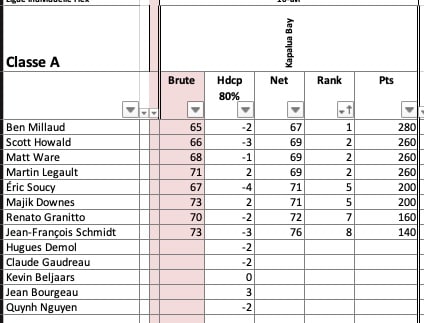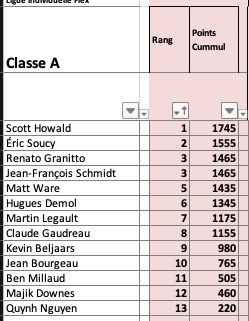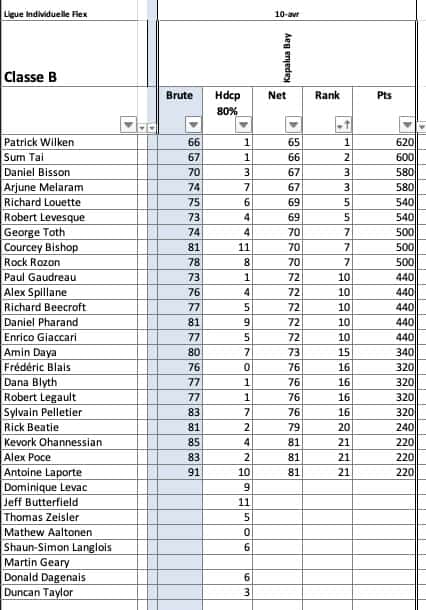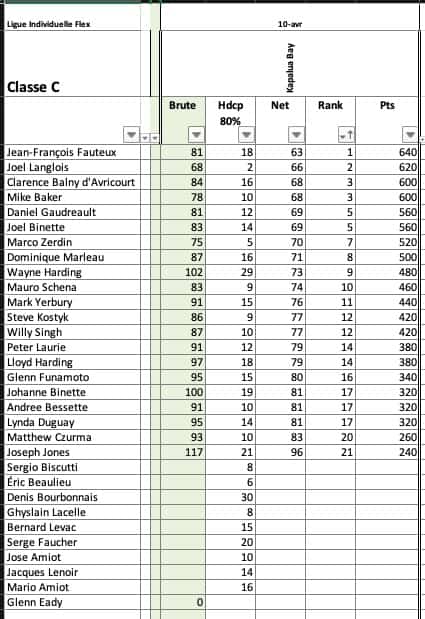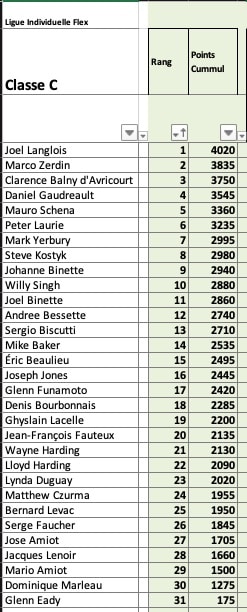 Would you like to organize your own golf league? We can help you. Play more and save.