Fall Individual Indoor Golf League
General Information
The Fall Indoor Golf League is a great way to play regularly and improve your golf. It also gives you the flexibility to play when you want and even play early games when you plan on some busier weeks or away. The indoor golf center Le Golf Club offers you state-of-the-art golf simulators that offer precision and realism. Take part in the fall indoor golf league at Le Golf Club virtual golf center. Flexibility to play at your convenience from Sunday evening to Thursday. You can also play your games in advance.
Individual Stroke Play format with handicap.

Classes A, B and C.

10 games / 10 weeks / 10 different routes.

3 games to play before November 4th

$ 1,000 in prizes.
Regulars: $ 245 / season Members: $ 25 / season
League settings
Mulligan = not allowed
Pin position = Medium
Auto Caddie = Off
Wind = 0
Gimme = 5 feet
Terrain Penality = Enabled
Elevation = 1000′
Weekly scores have to be received by Thursday 11pm.
Horaire
** : Les femmes jouent des départs jaunes
Results
Weekly Best Net Scores
Each week, the winner of the best net score wins a $25 Le Golf Club gift card.  If 2 players finish first, a draw will determine the winner of the gift card.
This week, winners are :
Classe A : Robert Legault
Classe B : Shaun-Simon Langlois
Classe C : Jeff Butterfield
Weekly Handicap Revision
Handicaps are revised weekly.  Next week handicap is calculated on your best 5 scores of the last 8 games played.
Pointage
Points are earned by your weekly ranking.  This week, each position value 15 points.
Additional Gift Card Draw
This week we had 3 additional Le Golf Club gift cards.  They were randomly drawn.  1 per class.  Here are the winners :
Classe A : Gilbert Dugal
Classe B : Mathew Aaltonen
Classe C : Amin Daya
Scores Finaux
Congrats to the league winners!
1e Position : Twosome at Atlantide golf club 
2e position : $75 at Restaurant Baton Rouge de Vaudreuil
Classe A :
1er : Nick Pittarelli
2e : George Chaveca
Classe B :
1er : Hugues Demol
2e : Shaun-Simon Langlois
Classe C :
1er : Dominique Marleau
2e : Patrick Quesnel
We'll see each other at the winter league…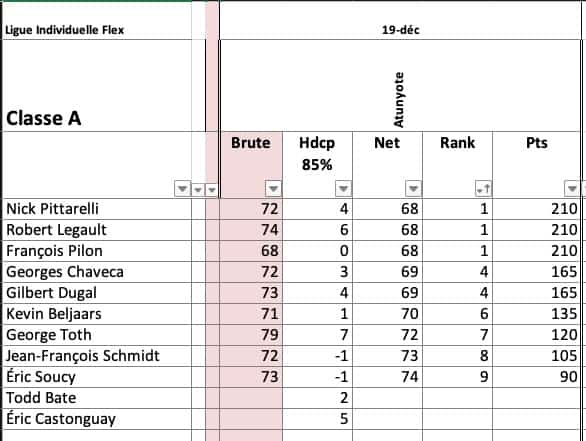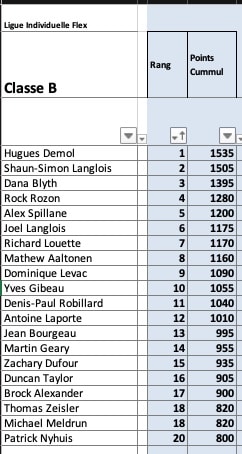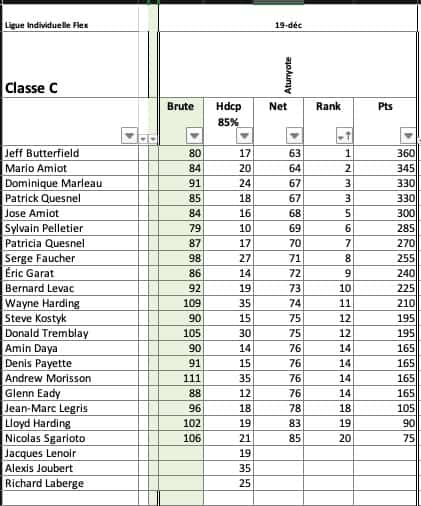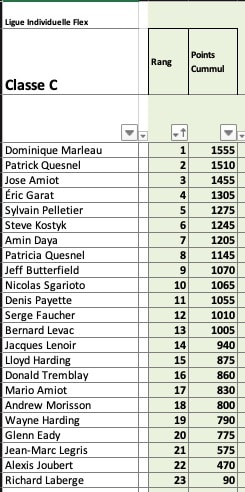 You feel like playing the fall and winter leagues? We have a promotion for you.